IGWG 3 - Daily Updates - Friday 27 October 2017
 Human Rights and Business Treaty
Third session of the open-ended intergovernmental working group on the elaboration of a binding treaty on transnational corporations and other business enterprises with respect to human rights
 ESCR-Net members and allies are working collectively to advocate for a strong #bindingtreaty at the United Nations to #stopcorporateabuse and to prevent and remedy human rights abuses by transnational corporations and other companies.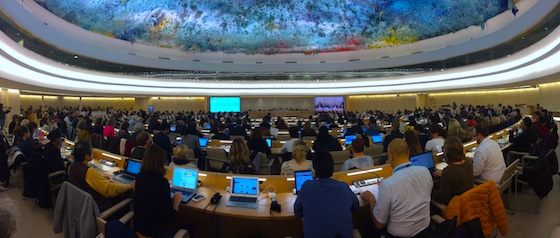 Friday 27 October 2017
Today's Events: Final day of IGWG negotiations – with a focus on the voices of those most affected by TNC abuses, and looking ahead to 2018. 

The Corporate Accountability Working Group of ESCR-Net (CAWG) participated in the final day of discussions towards the proposed treaty. The majority of the morning was devoted to a session on 'The voices of the victims (selected cases from different sectors and regions)'. A key theme throughout discussions was the reality that corporate activity does and can affect the full range of human rights. Participants spoke about immediate and longer-term impacts of, for example, the globalization of intellectual property norms and access to medicines, land grabbing and food sovereignty, disgraceful working conditions, commodification of the commons and the loss of control over the natural world, livelihoods and self-determination. While civil society welcomed the reiteration by a number of states on the need to protect human rights defenders, it was apparent that we need to also continue to encourage stronger focus on the underlying systemic human rights abuses that prompt such human rights defence in the first place.

Throughout the day and week more broadly, CAWG members discussed strategy, met with government delegations, and engaged with allies in the Treaty Alliance to influence the process in constructive ways. As the Chair-Rapporteur of the IGWG put forward proposals regarding the next steps in the process, various states put forward counter-proposals and civil society acted to encourage states to take positive steps towards progress in 2018. CAWG made a final statement supporting the positive process so far and calling for the continuation of an autonomous process, a draft text in 2018 and intermediary sessions to evolve the process. The Chairperson-Rapporteur welcomed the participation of 60 states in the first session of the IGWG, 80 in the second and 101 in the third session, and concluded the 3rd session with recommendations and conclusions, with a full report to follow.
---
For more information: