Newsletter October 2020
[[{"fid":"38308","view_mode":"teaser","fields":{"format":"teaser","alignment":"center","field_file_image_alt_text[und][0][value]":false,"field_file_image_title_text[und][0][value]":false},"type":"media","field_deltas":{"3":{"format":"teaser","alignment":"center","field_file_image_alt_text[und][0][value]":false,"field_file_image_title_text[und][0][value]":false}},"attributes":{"class":"file-teaser media-element media-wysiwyg-align-center","data-delta":"3"}}]]
Confronting COVID-19 and related crises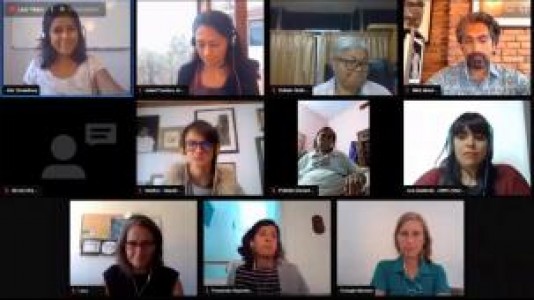 Members convene virtually to strategize on Climate Justice, ESCR & Just and Equitable Recovery
From 1-3 September 2020, ESCR-Net's Networkwide Project on Environment & ESCR and Asociación Interamericana para la Defensa del Ambiente (AIDA) co-hosted a strategy meeting amongst members of ESCR-Net, entitled Climate Justice, ESCR & a Just and Equitable Recovery in the context of COVID-19.
Following discussions within ESCR-Net's membership on climate and environmental justice and human rights in relation to the COVID-19 crisis, multiple members co-authored op-eds in this context.
Statement: Corporate Impunity Must End
The Corporate Accountability Working Group issued a collective statement on the second revised draft legally binding instrument on business and human rights that was published on 7 August 2020. +Read more >>
RELATED:
+ Watch & share on social media our video to #EndCorporateImpunity (In English and Spanish). + Watch here >>
Ensuring women, including unpaid care workers, enjoy social security rights
In the case of Marcia Cecilia Trujillo Calero vs. Ecuador before the United Nations Committee on Economic, Social and Cultural Rights, several members, along with allied feminist human rights defenders in Ecuador, submitted a collective follow-up filing to the Committee. + Read more >>
ESCR-Net Members Address UN Committee
ESCR-Net Board members, S'bu Zikode (Abahlali baseMjondolo) and Binota Moy Dhamai (AIPP), delivered a forceful denunciation of intensifying violations to the United Nations Committee on Economic, Social and Cultural Rights during the opening of their virtual sessions. + Read more >>
Stop the Killings of Human Rights Defenders in the Philippines
ESCR-Net sent a collective letter to President Rodrigo Duterte of the Philippines expressing our deep outrage at the killings of Zara Alvarez and Randall "Ka Randy" Echanis, both connected to our member Karapatan. + Read more >>
RELATED:
On 14 September 2020, ESCR-Net participated in the Global Day of Action to call the UN Human Rights Council to investigate the human rights situation in the Philippines. Under the hashtag #StopTheKillings, members shared solidarity messages.
+ Watch the message from Abahlali baseMjondolo (South Africa) here >>
Uganda: Members File Amicus on the Right to Food in the Context of the Pandemic
Several ESCR-Net members of the Strategic Litigation Working Group submitted a third party intervention at the Court of Appeal of Uganda concerning the right to food in the context of the COVID-19 pandemic.. + Read more >>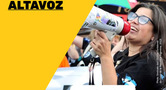 Altavoz Project
Do you know what parallel reporting is? Read the interview with Toribia Lero Quispe (General Secretary, Andean Coordinator of Indigenous Organizations - CAOI) to learn how parallel reporting strengthened indigenous women leadership in Bolivia. + Read more >>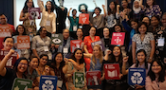 Principles of Political Education
Political education is a collective process of systemic critique intended to transform society toward a strategic goal, rooted in the experience, insights and struggles of people.
We're excited to start the Network's first community-led research project!
+ Learn more >>
New popular education tools coming soon: Comic series on Corporate Capture - Episode 1: Capture of the United Nations.
ESCR-Net — International Network for Economic, Social & Cultural Rights
370 Lexington Ave, New York, NY 10017