ESCR-Justice August 2017


Issue 91, August 2017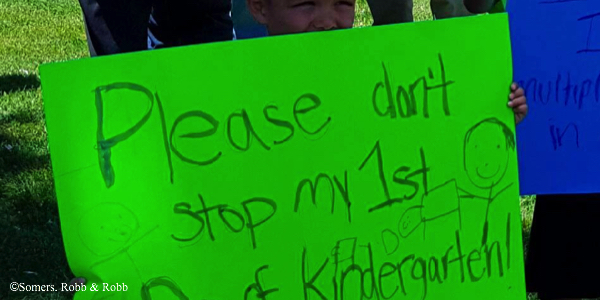 Kansas Supreme Court decides school funding should be equitable and adequate



Luke Gannon by his next friends and guardians, et al., v. State of Kansas, 298 Kan. 1107, 319 P.3d 1196 (2014) [Gannon I]; 303 Kan. 682, 368 P.3d 1024 (2016) [Gannon II], --- Kan. ---, --- P.3d --- (2016) 2016 Kan. LEXIS 300 [Gannon III]

In 2010, four Kansas school districts, 31 students, and their guardians sued the State of Kansas alleging that cuts in public school budgets beginning in 2009 had left schools inadequately funded and that portions of the funding were inequitably distributed, in violation of Article 6 of the Kansas Constitution (regulating education provision), state statutes, due process and equal protection clauses of the Kansas and United States Constitutions. In 2013, a panel held that the State had violated Article 6 by underfunding primary and secondary (K-12) public education between 2009 and 2012 and that the legislature had failed to consider the actual costs of providing a constitutionally required education before making its funding decisions.

In March 2014, the Supreme Court of the State of Kansas found that, concerning adequacy, the proper test was: whether "the public education financing system provided by the legislature […] – through structure and implementation – is reasonably calculated to have all Kansas public education students meet or exceed" the Kentucky Rose v. Council for Better Education, Inc. standards which focused on learner outcomes and were codified in Kansas legislation. Compliance with the equity requirement meant "school districts must have reasonably equal access to substantially similar educational opportunity through similar tax effort."

In February 2016, the Court found that the State had failed to show that its changes in the school funding system had cured inequities. However, following a stay of proceedings until the end of June 2016, the legislature eventually addressed the inequities.

Following a period of state measures to attempt to correct the violations, in March 2017, the Kansas Supreme Court issued a ruling on the adequacy of school funding. The Court found that the state's public education financing system, through its structure and implementation, was not reasonably calculated to have all Kansas public education K-12 students meet or exceed the Rose standards. Regarding structure, the Court noted that the financing system merely created a fund by freezing school districts' funding for two school years at a prior year's level, which would allow only minimal responsiveness to changing conditions with financial implications, such as enrollment. Regarding implementation, this was deemed inadequate given the state failure to provide approximately a quarter of  K-12 students with basic reading and math skills, and the leaving behind of significant groups of harder-to-educate students. The Court ruled, as it had in past practices, to allow the legislature the opportunity to bring the state's education system into compliance. 

This decision was particularly significant because it meant that if the legislature was unable to enact an equitable funding formula by the end of June 2016, Kansas public schools would not have opened in August for the 2016-2017 term. Further, this case confirms that courts are able to review state decisions regarding school funding and make determinations as to the legality of any state measures to correct funding inequities and inadequacies.


Visit the caselaw database for more information on the case summary, the judgment and other related documents.

 
---

Get Involved!

» Please send new cases and interesting developments in ESC rights jurisprudence to dikawa@escr-net.org

» To share information or strategies with other ESCR advocates subscribe to the justiciability discussion group.
 
---